We will share our passion for and knowledge of Vercors! gite vercor
---
Gîte Vol de nuit is located in the little village of Choranche in the department of Isère.
At 300m above sea level, between countryside and mountains, the village has a Mediterranean microclimate.
The gîte is Gîte Vol de nuit is situated along the village, amidst a landscape of lush greenery, water and falls.
---
Although appearing isolated, Gîte Vol de nuit is highly accessible:
By walking => GR9
By train => 45 minutes from the Valence TGV station with possibilty to rent a car, or 20 minutes from the St. Marcellin station by taxi or bus
By car => 20 minutes from the motorway A49 Grenoble-Valence exits (St Romans or St Nazaire-en-Rys)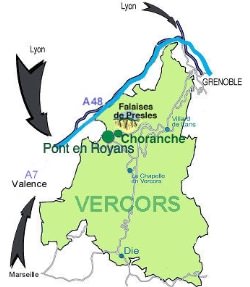 ---
The central geographical location in France is ideal for getting together in the middle of the massif of Vercors!
The central location of Gîte Vol de nuit within the massif allows easy access and discovery of six villages in the Regional Nature Park of Vercos, the gîte being in equal distance from the key sites, whatever activities you may have chosen.